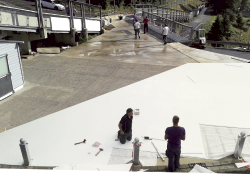 Sensory fields and computer software give better training results in Bad Aibling
Bobsleigh platform in Winterberg
We renovated the finish area of where the bobsleigh's comes to a halt, where the bobsleigh is pushed towards the weighing station.
The right choice of material allowed a nice slippery surface and lower operating costs. We selected the FunlCE material, which we had previously used for pilot testing in August 2013 to cover approx. 380m2 of the concrete surface of irregular shapes. Good cooperation with our client has led to innovations, further developments and the final production of covering part of the bobsleigh tracks with plastic.
We manufactured an ice skating rink with markings for one of our customers. The ice skating rink is used by hockey players for training; under the square markings there are built-in pressure sensors which help ice skaters with their training as they have to visually follow the path on the display, and it shortens the time needed to get to the designated sites.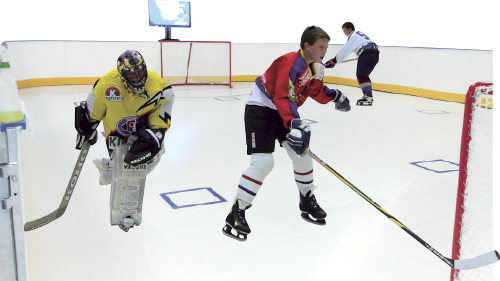 We are involved in joint technological development projects with customers. With innovations, continuous and sustainable development, and by solving questions and problems, we build long-term relationships with our customers.
Winter/Summer ski-jumping ramp
Together with our Slovenian partner, a manufacturer of run-up tracks for ski jumping, we developed a PE ski-jump surface, made out of KOTERM. It has already been installed at many ski jumps worldwide. The homogeneous material is much less sensitive to temperature changes in comparison with combination of different materials. The modular composite ski-jump surfaces offer a quick and effective replacement of any component making up the surface. This is what put our partner in front of the competition.