Mechanical engineering elements are products that in most cases are produced to order and according to the drawings of customers, or as autonomous technical solutions that are developed and technologically included in the customers' projects. Based on extensive experience and know-how Isokon provides quick solution to the customer.
MACHINE COMPONENTS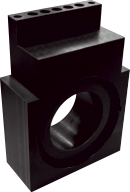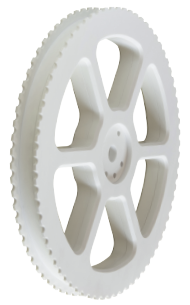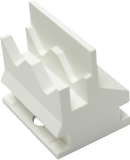 Advantages in KOTERM Material:
Excellent wear and abrasion resistance
Very low coefficient of friction
Self-lubrication
No moisture absorption
Examples of use:
Gear weels
Sprockets
Belts
Bushings
Transport palets for automated lines
Wheels
Guide rails, etc.

KOTERM elements for water extraction in the paper industry are composed of ultra-high-molecular polyethylene (4–9 million g/mol) and have a very low wear and excellent sliding properties. With additional fillers (glass balls, silicone or aluminium oxide) and through the use of modified materials, material properties are improved and durability increased, extending the lifetime of the elements.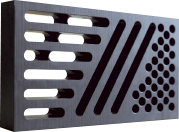 PAPER INDUSTRY
Examples of use:
FORMING TABLE: linings/strips
FOILS – DEFLECTORS: strips
WET SUCTION BOX: linings
SUCTION BOX: linings
SCRAPERS: strips
TUBULAR SUCTION BOX: linings/strips
SUCTION ROLL: sealing strips
GRATINGS
The advantage to customers is that shapes and perforations are made according to the customers' individual wishes.
Advantages in KOTERM Material:
Excellent wear and abrasion resistance
Very low coefficient of friction
Self-lubrication
No moisture absorption