Lamination on
extruded sheets with:
Fleece
Textile or fabric
Foam
Stripe(s)
Decorative foil
Logo-printed foil
Removable protective foil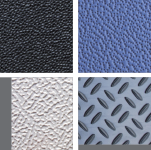 EXTRUDED SHEET
Tailor-made materials for thermoforming
Composite material – reinforcement with different fillers
Wood-plastic/BIO composites PE & PP filled with nano-cellulose fibres
Designed products fabric backed, metal-detectable, anti-slip, electroconductive grades, heavy filled and others
Embossed surfaces: N1, N2, N3, ALU or on request
Co-extrusion
Surface finishing:
Glossy Mat
Different textured structures
with embossed rolls
Technologies:
Extrusion of sheets (thickness 0.5–25mm, max. width 1,700mm)
Co-extrusion (AB, ABA) of sheets (thickness from 1.2mm, max. width 1,500mm)
Extrusion of sheets with direct compounding (thickness 1–10mm (max. width 1,600mm)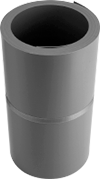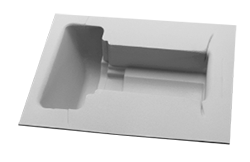 Others:
Surface activation with flame treatment
"Cut to size" parts from extruded sheets
Standard sheets in dimensions
2,000×1,000mm, 3,000×1,500mm
Thickness range
PE from 2mm to 25mm, PP from 2mm to 20mm
Maximum width:
1500 mm
Thickness: 1−8 mm
Colors: each layer different RAL
Rolls are available upon agreement.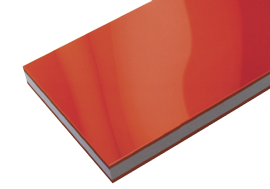 CO-EXTRUDED SHEET
The advantage of co-extrusion is that each layer imparts a desired property, such a stiffness, soft touch, environmental resistance, visual effect. Applications: automotive industry, food industry, luggage, … or similar.
Extruding two or more materials through a single die so that materials merge or weld together into a single structure before cooling allows the combination of different compatible materials and colors in a single sheet.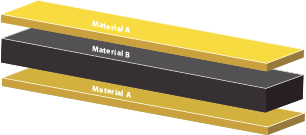 Filled materials
Fillers and additives are used to change and improve the physical and mechanical properties of plastics. In general, reinforcing fibers increase the mechanical properties of polymer composites while particular fillers of various types enhance a particular property.
Some of the main reasons to using fillers are:
Improved mechanical properties
Density control
Thermal conductivity
Optical effects
Flame retardantcy
Cost reduction
Electrical properties; antistatic
Fillers and additives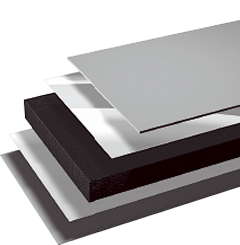 Key Benefits
Visual appearance (special effects, color matching)
Dimensional stability
Shrinkage
Stiffness
Abrasion surface
Weather influence resistance ( UV resistance,…)
Controlled flammability
Antistatic characteristics and electrical conductivity
Controlled impact strength at lower temperature
Modification of basic polymeric materials with fillers:
Talcum
Wollastonite
Calcium carbonate
Short/long glass fibers
Barium sulphate
Wood flour
Carbon black
Reliable solutions for all fields of industry