Engineered material properties gives a possibility to use the materials in different applications which requires material mechanical performance, antistatic, electroductive, controlled flammability, temperature resistance, antislip and structured surface, soft touch, lamination with the durable foam, sterilization, metal detection etc. as well as VDA 4503 compliant for European wheel pallet system (EWPS).
Upon request materials are designed to meet specific food contact regulations i.e. EN 10/2011 (European directive), Food and Drug Administration (FDA), Bundesinstitut für Risikobewertung (BfR).
Isoform product range offers a variety of "tailor made" extruded and coextruded sheets which can be easily formed in product for different purposes especially in industrial logistics trays.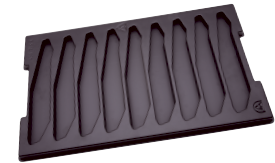 Key applications:
Pallets
Cases (boxes)
Containers
Trays
Layer pads
Key benefits:
Pallets
Recyclable
Light weight
Durability
Vacuum forming
"Tailor made"
product solution
for customer needs